Are you looking for Hostinger Alternatives?
Do you want to spend hours searching for options or need help in getting similar services?
Hostinger has a name as one of the most affordable web hosting providers. The company offers Shared, VPS, and Cloud hosting packages. You can also register a domain name at cheap rates.
Though Hostinger is a cheap web hosting provider, the company offers every feature to run a website. However, we see their servers are inconsistent like sometimes they are delivering great speed while sometimes it's not good at all. We can say it's not a good performer, but it's not the worst either.
If you are just starting out, then due to the small website size and low traffic, you won't feel the loading speed problems. But for a high-traffic website, surely slow page loading and frequent downtime are a big negative.
Another limitation attached to Hostinger is the control panel. Hostinger offers its in-house control panel. For a new user, we found this control panel very straightforward and easy to use. However, if you are a fan of standard cPanel, then you might not like this.
Finding a cheap web host similar to Hostinger is not an easy task. There are tons of companies in the market employing different pricing strategies. For example, a common practice in the web hosting industry is that most companies offer amazingly low introductory prices; however, when you are going to renew it, they cost more than double the first-time fee.
In this list of Hostinger alternatives, we have picked out the companies which are offering reliable performance hosting services without breaking the bank.
10 Best Hostinger Alternatives, Competitors, and Similar Services for 2023
1. Bluehost – My Top Hostinger Alternative
The reason why Bluehost is at the top because we found that Bluehost provides impressive quality services with affordable price tags. The company is usually entitled to one of the largest web hosting providers. It is also on top of the recommended web host by WordPress.org, and there are more than 2 million customers who put their trust in this platform.
So what makes Bluehost such a complete and dependable web host?
The use of cutting-edge technologies, affordable prices, 1-click installer, let's encrypt SSL, free domain name, and abundant resources are among the reasons to termed Bluehost as the top Hostinger alternative.
Just like Hostinger, Bluehost offers shared, VPS, Managed WordPress, and domain registration services. However, if you want a more scalable option like a dedicated server, unfortunately, Hostinger does not offer any such server, while Bluehost offers three different specification dedicated hosting plans. Bluehost also offers an optimized hosting solution for setting up a WooCommerce store.
For delivering fast-speed services, Bluehost offers SSD-based storage regardless of the hosting plan. Unlike Hostinger, Bluehost has implemented a unique resource protection technology to protect small websites from heavyweights in a shared hosting system making it a strong Hostinger alternative.
With resource protection, their system automatically detects the excessively resource-consuming website and temporarily assigns them to a separate system. In this way, the company is effectively protecting your website and ensuring stable performance.
Alongside SSD and resource protection, uptime is a crucial aspect of your website. If a web host is unable to offer you sufficient uptime, it may cause your very potential project to fall down. While hosting on Bluehost, the uptime never falls below 99.97%, much better than the market standard of 99.90%. It simply means you can have confidence that you will not lose any customers due to service outages.
Bluehost offers 4 different plans to choose from. The most basic plan comes with a price tag of $3.95/month, which offers significantly more storage, database limit, and email accounts than Hostinger. You will be given 50 GB SSD storage and unmetered bandwidth. Besides the 'Basic' plan, Bluehost offers an unlimited type of web hosting where you are limit-free from storage, bandwidth, and the number of domains that you can host on a single account.
Another thing to take notice of is the custom email accounts. Hostinger, on their very first plan, offers only 1 email account, which might not be sufficient if you are working in a team. On the other hand, Bluehost does not put any specific limit on the creation of custom email accounts. The company is maintaining a secure environment by providing SSL and web firewalls. Additionally, you can enable the premium SiteLock security; however, you have to pay for this separately.
So what when need more resources? Bluehost supports easy scalability, which means with a matter of a few clicks, you can upgrade your plan or even the hosting type like Shared to VPS.
On Hostinger, for a small piece of information, you first need to sign in, then you will be able to access the live chat. While Bluehost is straightforward, you can contact their support agent over live chat without signing in to the account. You can also access their support department via tickets and phone.
| | | |
| --- | --- | --- |
| | BlueHost ($3.95/mo) | Hostinger ($0.99/mo) |
| Free Domain | Yes | No |
| Websites | 1 | 1 |
| Storage | 50 GB SSD | 10 GB |
| Bandwidth | Unmetered | 100 GB |
| Free SSL | Yes | No |
| Email Accounts | Unlimited | 1 |
2. InMotion Hosting – Good Competitor to Hostinger for Hosting Multiple Websites
InMotion Hosting is another top-rated web hosting provider which surely can be used as an alternative to Hostinger. Founded in 2001, InMotion offers reliable and fast SSD hosting by employing SSDs, Max Speed Zones, and secure services. The company has an A+ rating with the Better Business Bureau. InMotion featured shared to dedicated hosting, so you don't have to worry about the options for your rapidly growing project.
InMotion welcomes its customers with a free domain name for the first year (with an annual web hosting plan). Google does not like the slow-loading website and so the people. The thing is, visitors, don't want to wait and see the page keep on loading. They simply move to your competitor with the impression that your website is slow. InMotion offers Max speed zones (a combination of different data centers, premium bandwidth providers, and fast network routing) to ensure fast services. InMotion enables you to choose either the East Coast or West Coast data center.
What makes InMotion Hosting an ideal Hostinger alternative is allowing the user to host 2 websites. It makes their hosting services more affordable. Plus, isn't it great that you can manage multiple websites from just a single dashboard?
On the first 'Launch' plan, you can use 50 GB SSD webspace, unlimited bandwidth, Free SSL, and 3 MySQL & PostgreSQL Databases. For custom email accounts, you can create up to 10 email accounts. Each of their plans is comprised of Malware Protection that scans and patches your website for malware.
However, where the company took measures to ensure proper security, we also encourage you to take some crucial actions to ensure rock-hard security on your side. Look at our guide on how to improve website security.
If you are searching for stable performance, Hostinger competitor InMotion hosting is a perfect choice. Except for the basic plan, the company offers E-commerce ready plans, which means you can set up your store and payment methods effortlessly. Using the cPanel control panel, you can install over 400 applications via a 1-click installer such as WordPress, Drupal, and Shopping carts, etc.
Another good thing for beginners is the application installation by the InMotion support team. While the checkout process, you can choose between WordPress, PrestaShop, or Joomla, and they will install it for you.
So if you already using Hostinger and want to migrate, InMotion's expert team will perform a free site migration (some companies charge a hefty amount for site migration) with zero downtime.
The most distinguished part of InmotionHosting over Hostinger and most of its competitors is the money-back guarantee. So where its competitor Hostinger only offers a 30-days refund policy, and after that, if you don't like their services, you cannot ask for a refund. While InMotion offers a 90-days refund policy, which simply means you have more time to test their services.
What's more good, you will be covered by 24/7 live chat, phone, Skype, and email support. So with affordable plans, zero downtime migration, Max Speed Zones, and a whopping refund policy, there left no reason not to call InMotion one of the best Hostinger alternatives.
| | | |
| --- | --- | --- |
| | InMotion ( $5.99/mo) | Hostinger ($0.99/mo) |
| Free Domain | Yes | No |
| Websites | 2 | 1 |
| Storage | 50 GB SSD | 10 GB |
| Bandwidth | Unlimited | 100 GB |
| Free SSL | Yes | No |
| Email Accounts | 10 | 1 |
3. A2hosting – Best Affordable Hostinger Alternative for Bloggers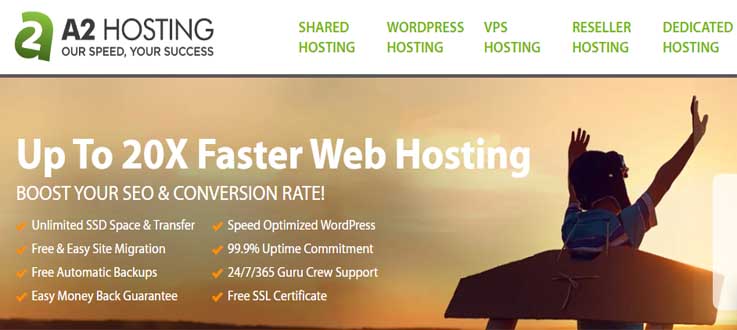 When looking for similar services to Hostinger, A2hosting well covers you with its wide variety of web hosting services. Whether you need hosting for a small starting website or a high-traffic project, A2hosting provides shared, cloud VPS, and dedicated solutions.
The company made its position in the market by offering screaming fast web hosting. What makes it better than Hostinger, its shared servers are backed by speed-friendly technologies such as solid-state storage, A2optimized, multiple availability regions, and Turbo servers.
The speed of your website is one of the important factors for search engine ranking as well as for conversion rate. By realizing the importance, the company is employing some of the best industry practices. Irrespective of the plan, you will get SSD storage, pre-tuned A2optimized, global data centers, and easy Cloudflare integration. You may be aware of the fact that PHP7 has a significant role in making a fast page loading speed. A2hosting enables you to pick multiple versions of PHP from the control panel.
Like some of the enthusiast hosting providers, A2hosting offers a unique Turbo server (limited to higher Tier plans – Turbo Boost and Turbo Max) designed to handle medium-traffic websites. Turbo servers are featured with fast NVMe Drives, LiteSpeed web servers, HTTP/3, APC/OPcache, and a small number of users on each server. With such a combination of cutting-edge technologies, the company ensures your site won't get beaten because of speed. It also makes A2hosting a great Hostinger alternative for high-traffic websites.
A2 shared hosting plan starts at just $2.99/month and comprises 100 GB storage, unlimited data transfer, and a free SSL certificate. This starter plan allows you to host 1 domain, while all other plans let you host an unlimited number of domains. There is also the availability of advanced features like staging sites regardless of the plan. The staging site lets you try codes and changes on your website clone without risking your original website.
Another thing that makes us prefer A2hosting over Hostinger is that they are transparent about the technical specifications, i.e., they clearly mention the allocation of cores and memory to each shared hosting account.
When it comes to security, A2hosting well covers you there. The inclusion of free HackScan protects against malware and vulnerabilities. Additional security measures include KernalCare updates, DDoS protection, Dual web firewall, and Brute Force protection. To make your hosting account more secure, you can enable 2-Factor Authentication.
When you need a more powerful solution, A2hosting offers cheap cloud VPS starting at just $5/month. As per your ease, you can pick from unmanaged and managed VPS plans. If you are a developer and looking for open environment hosting with operating system-level access, unmanaged VPS is the best solution. While managed cloud VPS plans are suitable for bloggers who need a powerful solution without the fuss of technicalities.
Another reason that makes A2hosting a close alternative to Hostinger is the refund policy. They offer a unique anytime money-back guarantee. If you feel their services are not meeting your expectations, you can ask for a full refund within the first 30-days. However, after 30 days, unlike Hostinger, the A2hosting refund policy still applies, and they will issue a prorated refund of unused services.
A2hosting has a quite good support department where you can contact them using Live Chat, Phone, and Email. Our live chat experience with their representative was fast and friendly.
| | | |
| --- | --- | --- |
| | A2Hosting ($2.99/mo) | Hostinger ($0.99/mo) |
| Free Domain | No | No |
| Websites | 1 | 1 |
| Storage | 100 GB SSD | 10 GB |
| Bandwidth | Unlimited | 100 GB |
| Free SSL | Yes | No |
| Email Accounts | Unlimited | 1 |
4. SiteGround – Best Hostinger Alternative for Customer Support
Founded in 2004, SiteGround has an image of premium quality web hosting with the best and most caring customer support department. They are utilizing 100% renewable energy and recently shifted to the Google Cloud Platform. On the pricing side, SiteGround is not as affordable as Hostinger; however, it surely is the best Hostinger alternative when talking about security, top-notch technologies, fast speed & high uptime, and incredible support.
No matter what type of project you want to host, the company houses a variety of solutions like shared, cloud, Managed WordPress, and dedicated hosting.
SiteGround stands among the companies to provide its customer with the latest technologies as soon as it is available to use. So if you want to use the latest PHP version, you can choose your desired PHP version from 5.x to 7.x.
SiteGround is able to deliver the fastest speed web hosting than Hostinger through the use of solid-state storage, PHP, and free CDN integration (194 locations). For further speed boost, multiple software solutions enable at the server level, such as HTTP/2 and Memcached.
SiteGround in-house team has designed a caching solution called SuperCacher. Depending on the plan, you can take benefit from SuperCacher caching layers (3-levels). For WordPress users, the company also offers an SG Optimizer plugin that will do automatic speed optimizations. You can manage SG Optimizer right from your WordPress dashboard. It shows how much the company is concerned about delivering fast-speed services with so many speed-friendly initiatives.
Besides speed, another area where SiteGround clearly outranks Hostinger is the global data center locations. Where Hostinger does not offer any choice of data center, SiteGround lets you pick your preferred location out of their 6 data centers (USA, UK, DE, NL, and AU).
Do you want to present your site as a piece of cake to hackers? Of course, you don't want to ruin your website with hackers where you invest your precious time. That's why, while seeking an affordable alternative to Hostinger, you should not ignore the importance of security. SiteGround has maintained various security measures, including smart WAF, AI against malicious traffic, and real-time server health checks. Furthermore, one of their DevOps team is mainly devoted to creating security solutions.
For setting up your website with SiteGround, you can start with the minimum StartUp plan. This plan costs you $6.99/month including 10 GB storage, 10,000 monthly visits, a free SSL certificate, and daily backups. With such a price tag and resources, it is more pricey than the competition; however, the company explains the prices by making available modern hardware, top-notch security, and the most helpful support team.
SiteGround hosting account comes with a custom-made control panel. We have tried many control panels with different hosting companies, and we can say SiteGround offers one of the most intuitive control panels. Even if you are going to use a control panel for the first time, you won't face any trouble in installing WordPress, activating SSL, creating email accounts, and more.
For support service, SiteGround is absolutely one of the reasons to prefer SiteGround over Hostinger. Their well-prepared agents are friendly and, in most cases, try to resolve your issue over chat. Whenever we open the chat, it gets connected in less than 2 min, which is an incredible response time. Additionally, you can use the phone and email.
So overall, if you don't mind their tight limits on storage and monthly visits, SiteGround is absolutely a remarkable alternative for Hostinger.
| | | |
| --- | --- | --- |
| | SiteGround ($6.99/mo.) | Hostinger ($0.99/mo.) |
| Free Domain | No | No |
| Websites | 1 | 1 |
| Storage | 10 GB SSD | 10 GB |
| Bandwidth | 10K monthly visits | 100 GB |
| Free SSL | Yes | No |
| Email Accounts | Unlimited | 1 |
5. FastComet
Another reliable name in the web hosting industry that offers similar services to Hostinger but with much better quality and support. It was just launched back in 2013 and now the company powering over 50K small websites and blogs. Whether you need simple shared hosting or more scalable cloud VPS, they cover you everywhere. Moreover, unlike Hostinger, FastComet provides a fully managed dedicated CPU server too.
Compared to Hostinger, FastComet has outspread its infrastructure strategically all around the world. While speed is one of the crucial factors for search engine ranking and user experience, data center choice helps deliver low-latency services. The simple theory behind the data center's choice is that a server near your targeted audience will deliver fast page loading time because, in such a situation, data takes less time to travel from server to user.
While the checkout process, you can choose out of their 11 data centers located in all the major regions such as Asia, Europe, the USA, and Australia.
The good thing, FastComet does not solely rely on the availability of data centers for fast speed; instead, you can enjoy the benefit of SSD, Auto-optimizations, CDN caching, and fast networking. They also applied various other speed optimizations like AutoMinify, Cache header optimization, Lossless data compression, and browser optimization.
There is also a five-layer caching (Varnish, OPcache, APC, Memcached, and Apache Module); however, it is only devoted to the higher tier plan. All of these optimizations and caching will be performed in the background, thus making it easier to focus on increasing productivity. So once you are getting some traffic, we recommend you go for their highest shared hosting plan because, as per our experience, their lowest is not delivering a consistent speed.
As far as uptime is concerned, FastComet is clearly performing more amazingly than Hostinger. In the industry, 99.90% is considered the standard, and FastComet average uptime was 99.96%, which is excellent.
Unlike Hostinger, FastComet stands among the very few companies which are truly applying a transparency policy. Even in shared hosting, FastComet allocates the amount of RAM and CPU cores to each account and ensures you always have access to the given resources.
FastComet least plan starts at $2.95/month, including 15 GB storage, 25K monthly visits, unlimited email accounts, and free let's encrypt SSL. Regardless of the plan, you can make use of free site migration and free domain transfer. Unlike Hostinger, FastComet provides the powerful cPanel control panel that will make launching a WordPress website like a walk in the park. What makes it even more affordable is the inclusion of free backups.
Another reason for including FastComet in the list of best Hostinger alternatives is security. Alongside the free SSL certificate, the company ensures peace of mind security by putting on a network firewall, brute force protection, malware protection, BitNinja server security, and account isolation.
FastComet money-back guarantee is longer than what most companies are offering. They will give you 45-days, which is more than enough period to try their services. FastComet might be a small company than most of its competitors, but this could be advantageous in getting an expeditious support response.
We found their live chat is pretty active and reliable for diagnosing issues. Even when we open a support ticket, we get our first response in 14 min, which is really impressive. You can also use a phone call or search for a solution in their knowledge base at your ease.
| | | |
| --- | --- | --- |
| | FastComet ($2.95/mo.) | Hostinger ($0.99/mo.) |
| Free Domain | No ( Free Domain Transfer) | No |
| Websites | 1 | 1 |
| Storage | 15 GB SSD | 10 GB |
| Bandwidth | 25K monthly visits | 100 GB |
| Free SSL | Yes | No |
| Email Accounts | Unlimited | 1 |
6. DreamHost – Cheap Domain and Reliable Web Hosting Competitor of Hostinger
Next in the Hostinger alternatives is an experienced web host that has spent over 2 decades in the industry. The company is known to provide a good mixture of quality hosting and affordability. They are hosting over 1.5 million websites and applications for more than 400K customers. With hosting more than 750K+ WordPress blogs, DreamHost holds experienced people to help you build something amazing.
Alongside shared hosting, you can avail of solutions like Managed VPS and Dedicated server. For the developers who are seeking for cheap cloud hosting alternative to Hostinger, DreamHost offers a very affordable cloud hosting plan where you will be given operating system-level access and a dedicated environment.
Along with a variety of web hosting services, DreamHost is an incredible domain registrar too. There is an availability of 400+ TLDs. In the market, most domain registrars offer domain names at very low introductory prices but with high renewals. While DreamHost not only offers domains at low prices for the first year but also their renewal prices are lower than the competition. Furthermore, you will also get free WHOIS domain privacy to hide your personal information from public access.
DreamHost offers straightforward 2 different plans (Shared Starter and Shared Unlimited). Shared Starter is the minimum plan you can start with. At just $2.59/month, it is an ideal plan for those searching for quality hosting without spending a lot. It includes a free domain name, Free SSL, Unlimited traffic, SSD storage (50 GB), and 1 website. If you are tired of your current web host, DreamHost provides free automated WordPress migration with all of their plans.
However, there is a limitation attached to their basic account you cannot create a custom email account. With this Starter plan, you have to pay separately for email hosting. You can absolutely work without a custom email account, but it looks more professional.
On the other hand, Shared Unlimited is great for multiple websites. This plan also includes unlimited bandwidth, SSD storage, and a Free SSL certificate; however, it allows you to host unlimited websites on a single account. Plus, it lets you create custom email accounts. For your ease and to avoid technicalities, each of their plans allows you to select the pre-installed WordPress option.
If you don't want to get into the coding, all of the DreamHost plans are included with a free Website Builder. So instead of writing codes, with the website builder, you just need to drag and drop the elements. There are over 200+ templates to choose from. You can take the quick start wizard to help yourself get acquainted with the builder quickly.
Similar to Hostinger, DreamHost offers an in-house designed control panel. It is easy to use, and prominently presents all the crucial features like Domains, Application installer, WordPress, File Manager, and Billing. With both of their plans, they provide free daily backups. From the control panel, you can quickly upgrade to one of their more powerful solutions.
When it comes to a money-back guarantee, DreamHost has a clear edge over Hostinger. With 97-day money-back guarantee, DreamHost offers the longest duration to its customers to test their services. Just like every other company, this refund policy applies to annual billing.
Although DreamHost offers quite expeditious Live Chat support but it is not 24/7 and will be available to access from 5:30AM–9:30PM PT. They do offer phone and email support.
| | | |
| --- | --- | --- |
| | DreamHost ($2.59/mo.) | Hostinger ($0.99/mo.) |
| Free Domain | Yes | No |
| Websites | 1 | 1 |
| Storage | Unlimited | 10 GB |
| Bandwidth | Unlimited | 100 GB |
| Free SSL | Yes | No |
| Email Accounts | $1.67/mo. | 1 |
7. TMD hosting
TMD Hosting is an affordable and feature-rich alternative to Hostinger. Founded in 2007, the company caters to the needs of all types of businesses regardless of size. Starting from shared hosting, they also cover powerful solutions like cloud and dedicated hosting. The company may not be as popular as Hostinger but surely a worthy replacement for Hostinger.
TMD Hosting is also a considerable Hostinger alternative when you looking for cheap Windows hosting. Their shared servers can be based on either Linux or Windows.
Their hosting packages are loaded with features where you can enjoy blazing-fast services, expeditious support services, incredible 99.99% uptime, and an easy-to-use cPanel control panel.
Similar to Hostinger, TMD Hosting provides complete SSD storage, which means all your site data, including databases, will be stored on the SSDs. The company is holding a widespread infrastructure that is strategically located over 7 locations. By keeping in mind the potential audience, you can choose between Chicago, Phoenix, London, Amsterdam, Tokyo, Singapore, and Sydney locations.
TMD Hosting offers 3 different specs shared hosting plans where the starter plan comes with a $2.95/month price tag. Unlike Hostinger, here you can enjoy unlimited SSD storage, unlimited bandwidth, and unlimited email accounts. Each of their accounts comprises a free Let's Encrypt SSL and a free domain name. The 'Starter plan allows you to host 1 domain, but if you want to host multiple domains, the other 2 plans let you host an unlimited number of domains.
Besides SSDs and multiple data center locations, their team has assembled 3 layers of cache (APC, Varnish, and OPCache). Here note that the most basic plan comes with basic caching; however, higher plans are included with better performance and advanced caching.
TMD hosting knows how much security is important to ensure reliable services. So for that reason, they have implemented live malware protection, BitNinja powered web-based firewall, and SPAM expert. Plus, to safeguard your website, their staff performs security updates daily.
The best thing, all of their plans included free daily backups. However, for restoring a backup, a specialist will do so without charging even a penny. If you want full control over backup, we recommend you go through our beginner's guide on creating WordPress website backups.
For developers who want to benefit from TMD hosting, cost-effective plans can use SSH access, WP-CLI, Perl, Python, multiple PHP versions, and more.
Moving to a new web host is a headache – its time consuming and involves technicalities. And when you have migrated to the new host, what if you don't like their services.
Or think about the case that you have a limited budget and invest in a web host but are unhappy with their service quality.
Thanks to TMD Hosting generous money-back guarantee. Compared to Hostinger, TMD offers twice the number of days (60-day refund policy) to taste their services. Such a huge money-back guarantee is very rare in the industry, and it shows TMD hosting is confident in its services.
Customer support is another well-maintained area of TMD. You can rely on their support for diagnosing failure services. They provide pretty fast live chat, phone, and email support. So with affordable prices, fast page loading speed, and a 60-days refund, there left no reason not to try TMD hosting.
| | | |
| --- | --- | --- |
| | TMD Hosting | Hostinger ($0.99/mo.) |
| Free Domain | Yes | No |
| Websites | 1 | 1 |
| Storage | Unlimited | 10 GB |
| Bandwidth | Unlimited | 100 GB |
| Free SSL | Yes | No |
| Email Accounts | Unlimited | 1 |
8. iPage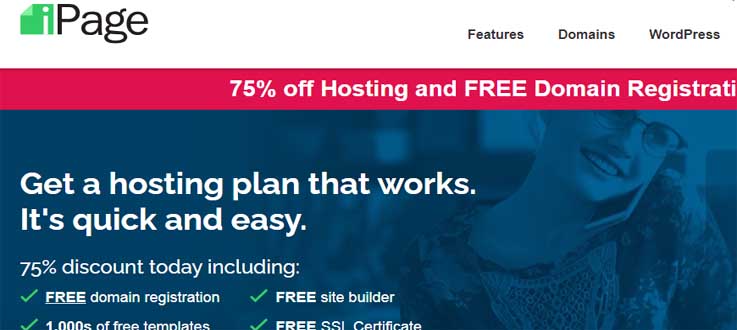 So you want to set up your online business, but in the meantime, you want to play safe and don't want to invest in any expensive hosting provider. The simple answer is iPage. In fact, it's a good strategy to start with limited resources and then gradually upgrade to a more powerful solution. It would not be wrong to say that iPage is the cheapest Hostinger alternative that makes you available every feature or even more than the Hostinger.
Instead of offering multiple plans, iPage shows up with a single all-inclusive plan. You can host as many domains as you want on a single account, which makes it the cheapest hosting provider. What is more surprising is that even with the lowest cost shared hosting, it also includes freebies like a free domain name and free SSL certificate.
With a price tag of $1.99/month, you can enjoy an unlimited type of hosting, including unlimited storage, unlimited MySQL databases, and unlimited email accounts. For bandwidth, there are no specific limits; however, if your site goes viral and eats more resources than shared hosting can afford, they will notify you of a more scalable option like VPS.
Unlike most shared hosting providers, iPage comes with different customized control panels. Although it's different than the most commonly used cPanel, it is enormously easy to use. As soon as you sign in to the iPage account, you will see the Domain and Hosting section. In the hosting section, you can see all the information as well as features like managing websites, backups, files manager, and more. While in the domain section, you can manage SSL certificates, emails, DNS, and some other crucial settings.
Just like any other good control panel, iPage included a 1-click installer that lets you install WordPress, Drupal, and Shopping carts without any complexities.
However, they are offering some of the most affordable web hosting services, but it doesn't mean they ignore the necessities to make it a considerable web host. The plan includes free security scans, 24/7 network monitoring, two data center locations, and UPS/Generator backed servers.
A non-technical person who wants to set up a simple few-page website can use iPage website builder. Although WordPress makes it super easy to set up a website, but a website builder makes it even easier through a drag-and-drop facility. You don't have to build the layout from scratch; instead, you can choose and customize a pre-made template provided by iPage.
Like Hostinger, iPage offers a 30-day refund policy that is really appreciated, especially when the company is offering remarkably low prices. So your money will not be stuck if you decide not to continue their services during the first 30-days.
You can get help from iPage using all the standard channels such as Live Chat, Phone, Email, and knowledgebase. The company has also introduced 'Share Screen' where you can share your computer screen with the company consultant for troubleshooting the issues.
We have experienced a sluggish live chat response. Sometimes the agent appears in under 2-3 min while sometimes, it took more than 15min. So they need to improve their response time. Furthermore, you should bear in mind that your site will experience some downtimes, which is understandable with such low-priced web hosting.
| | | |
| --- | --- | --- |
| | iPage ($1.99/mo.) | Hostinger ($0.99/mo.) |
| Free Domain | Yes | No |
| Websites | 1 | 1 |
| Storage | Unlimited | 10 GB |
| Bandwidth | Unlimited | 100 GB |
| Free SSL | Yes | No |
| Email Accounts | Unlimited | 1 |
9. GreenGeeks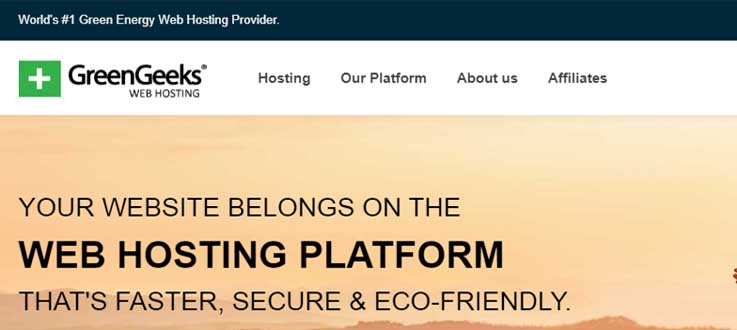 GreenGeeks is an independent hosting provider that has been in the business since 2008. During its 12 years of journey, the company has hosted over 500K+ websites for its more than 40K customers.
As its name signifies, it's a green web hosting provider that is powering up its servers with renewable energy. Furthermore, the company is adding back 3 times its power consumption in the form of renewable energy. So by selecting this Hostinger alternative, you are playing some of your parts in making this world carbon-free.
Where GreenGeeks put great efforts into providing eco-friendly hosting, it also does not ignore the importance of maintaining cutting-edge hardware. The combination of SSDs, built-in caching tools, multiple PHP versions, and real-time security scanning ensures fast and secure hosting services.
Unlike Hostinger, GreenGeeks offer 3 different availability zones to choose from. You can choose from Europe, the United States, and Canada data centers during the checkout process. This strategic location of availability zones enables you to locate near your targeted audience and thus make possible low-latency services.
Out of their 3 shared hosting plans, the least plan starts at just $2.95/month. Even with such a low price, the company offers tons of features compared to Hostinger. The starter plan 'Lite' comprises unlimited storage, unlimited data transfer, and unlimited email accounts. It also contains some useful freebies such as a free domain name for the 1st year, a free SSL certificate, and free nightly backups.
GreenGeeks is maintaining speedy services by making use of solid-state storage drives, free Cloudflare CDN, and caching tools. All of their shared hosting plans are optimized for LiteSpeed and MariaDB. Plus, they are utilizing LiteSpeed proprietary caching technology, HTTP/2, and PHP7 for ensuring blazing-fast speed.
The company has achieved a secure hosting environment with the use of container-based technology, proactive server monitoring, SPAM protection, and security scanning. By employing account isolation on shared hosting, the company treats each account separately. In this way, if an account gets affected in the same server where your site is hosting, it will not affect your website due to unique account isolation.
Unlike Hostinger, GreenGeeks includes the most intuitive cPanel control panel. The included Softaculous 1-click installer in the cPanel lets you install over 200 + scripts effortlessly. Furthermore, users with no prior experience can perform tasks such as creating email accounts, managing domains, backups, etc., with no hassle.
Of course, while selecting a hosting provider, you should also look for the available scalable options so that in the future, when you need more resources, you don't have to migrate somewhere else. GreenGeeks offer Managed WordPress and VPS hosting solutions. However, unlike Hostinger, GreenGeeks does offer dedicated servers.
Advanced hardware, multiple availability zones, caching tools, and above-average speed and uptime are enough reasons to try GreebGeeks as a Hostinger alternative. However, there is one more, and that is customer support. Their support agents always stay online (24/7/365) over Live Chat, Phone, and Email tickets.
For users who want to migrate from Hostinger but don't want to get into the fuss of site migration, GreenGeeks will transfer your website for free.
| | | |
| --- | --- | --- |
| | GreenGeeks ($2.95/mo.) | Hostinger ($0.99/mo.) |
| Free Domain | Yes | No |
| Websites | 1 | 1 |
| Storage | Unlimited | 10 GB |
| Bandwidth | Unlimited | 100 GB |
| Free SSL | Yes | No |
| Email Accounts | Unlimited | 1 |
10. NameCheap – Cheapest Alternative to Hostinger
Founded back in 2000, the company gets its popularity as the reliable ICANN accredited domain registrar. With over 10 million domains under its management, it is one of the top domain registrars that we definitely recommend for buying domain names at very competitive prices. Unlike most domain registrars and even the biggest GoDaddy, NameCheap offer free WHOIS privacy, which is around $12 saving every year.
Apart from domain registration, NameCheap holds a wide range of digital products such as web hosting, SSL, Email hosting, Supersonic CDN, and VPN. Whether you need a domain name or web hosting, NameCheap is a solid alternative to Hostinger. NameCheap offers the cheapest web hosting where you will get a more feature-rich plan than Hostinger. With just $17.28, you can host 3 domains on a single account for the whole year.
Even with such a low price, the company provides fast solid state-based storage and a free domain name with an annual hosting plan. NameCheap has 3 shared hosting plans starting at $1.44/mo. It includes 20 GB storage, unmetered bandwidth, free backup, Free SSL installation, and the creation of up to 30 email accounts.
What makes NameCheap even more preferable over Hostinger is the billing structure. So in the case of Hostinger, the company only offers the lowest price on a 3-year contract. On the other hand, NameCheap offers the lowest possible price if you buy their services for a 1-year contract.
For uptime, we have experienced that NameCheap is not a consistently performing web host. For the first few months, the uptime was a great average of around 99.96%. While in some months it falls to 99.83%, however, you should expect such performance shortcomings when selecting such a low-cost hosting provider.
So far, Hostinger does not offer the data center's choice, while NameCheap allows you to choose from the US or UK data center. Here note that with the UK data center, it will cost you an extra $12 for the year.
In order to deliver the fastest services possible apart from providing the SSD, NameCheap offers Supersonic CDN with each of their plans. You will be given free 50 GB of traffic limits each month. It not only boosts your website speed but also protects against DDoS attacks.
For managing features, NameCheap comes with cPanel, which is undoubtedly a plus point for beginners. You can install over 100+ apps with a 1-click installer.
Being the cheapest Hostinger alternative does not mean a lack of scalable options. NameCheap house all types of hosting solutions sufficient to meet the needs of small to heavy-traffic websites. They offer shared, Managed WordPress, VPS, and Dedicated servers at very affordable price tags.
Like any other good web hosting provider, NameCheap assists their customers using the ways Live Chat and Email tickets. Our live chat connection was smooth and quick. NameCheap is also maintains an extensive knowledge base great for self-help and learning. The best part, after buying a NameCheap hosting plan, if you don't like the service, you can make use of a 30-day money-back guarantee available with annual plans.
| | | |
| --- | --- | --- |
| | NameCheap ($1.44/mo.) | Hostinger ($0.99/mo.) |
| Free Domain | Yes | No |
| Websites | 3 | 1 |
| Storage | 20 GB SSD | 10 GB |
| Bandwidth | Unmetered | 100 GB |
| Free SSL | Yes | No |
| Email Accounts | 30 | 1 |
So, what is the Best Hostinger Alternative You Should Pick?
We hope you will find the article helpful in searching for the best alternative for you. We have spent days and then carefully picked out similar services to Hostinger. So without any doubt, you can pick any from the above-mentioned web hosts.
For all types of projects, we recommend Bluehost which offers shared to dedicated servers. They offer stable services without breaking your bank account. You will get easy-to-use cPanel for managing hosting features, installing scripts, and creating backups. Regardless of the time, you can make contact with their support department.
However, if you don't mind the price, we strongly recommend SiteGround. With its cutting-edge technologies, top-notch security, multiple availability regions, and the most caring support department, it's a worthy Hostinger alternative.
So what do you think is the best Hostinger alternative, feel free to post a comment below.